The First ones...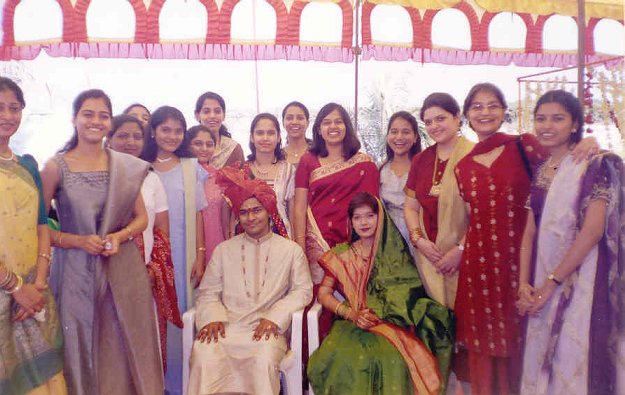 Confirming what all the guys were dreading :
27th jan ,2003
Alefia got married to Ashfaq Tapia.
The venue of the marriage was our own city amchi mumbai.At present the couple is based at bandra, mumbai.So if you guys werent lucky enought to be present at her marriage,you can wish her luck and happiness at the message board and mail her at
alefiac@yahoo.com
Congratulations Alefia, we wish you some really good times ahead..
Heartbreak continues......
Just recieved confirmation Swati Gite tied the knot this year,and is presently settled in UK ,keep watching this space for her marriage pics and details..
Sorry for not updating since a long time. Looks like I have a lot of catching up to do .
The following people have definitely tied the knot and I will try to get the details up as soon as I can, preferably with pictures :
ANKUSH MAHAJAN got married to Gauri who used to study at Nair Medical College. I think the stress just got to her. May the Lord help her soul.
NILAY KUMAR
SACHIN KUMAR
FAIZAN got married to Saleha recently and they are both together in UK
Rakesh Bhansali, who incidently is now doing Psychiatry at KEM also got married recently in June 2005.
The following people may have tied the knot but I have no details available to me :
Anupriya (OH No they are all falling by the dozens)
If you guys happend to know more about these people or if you are one of these people do send in details and pics to
vikram2611@yahoo.com